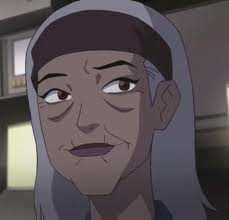 history:Abuela (A spanish word that means grandma) appears in Night Falls when Caesar and Rex went to visit her. From half- way open door she was glad to see them again but then coldly rejects the Salazar brothers when they aske permission to come in. The next morning she visit Caesar's lab, bringing breakfast and explains her rude welcome by stating that she was not ready for guest yesterday. She then welcomes both boys to her village to meet the rest of the family and Federico. That night, she locks Caesare and Rex's room. But when Federico's Were-E.V.O. form was dicovered, with a heavy heart she explains to Caesar and then stops Rex from hurtting him. Abuela insists on protecting her family in the village, even though Mayor Esteban and Hunter Cain warned her, trying to make her leave. After arguing with Rex over whether or not she should let her family fight, she finally agrees with him. Eventually, Abuela fights Hunter Cain and his men along with her mutated family.
Personality: Abuela is a warm loving, like most grandmothers. She helps and cares Caesar, Rex , Federico and the people in the village, even though they have no blood realtion with her. She very fearless, when Federico and family had been threatened, despite her old age. Abuela is also forgiving, as she forgives Mayor Esteban and lets hin join the family gathering.
Ad blocker interference detected!
Wikia is a free-to-use site that makes money from advertising. We have a modified experience for viewers using ad blockers

Wikia is not accessible if you've made further modifications. Remove the custom ad blocker rule(s) and the page will load as expected.